Titus spoke about Darren in a recent interview promoting Father's Day featuring WWE's partnership with the Ad Council campaign about being a dad.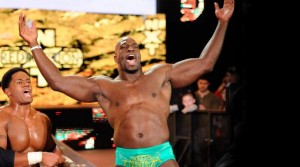 Check out the highlights below:
AE: Switching to the WWE, you and Darren Young made up the duo of "The Prime Time Players." How long did it take for you two to build a chemistry in the ring?

TO: It took two years to build a chemistry, but it took me about three minutes to disengage that chemistry. We are no longer a tag team. We kind of went our separate ways as far as television is concerned, but Darren is definitely one of my closest friends. I have shared a lot of great memories with him, a lot of great matches with him, and win, lose, or draw we would always go out and try and have fun and entertain. Now I am in a position where I am trying to have single success and put myself in a position to do so.

AE: What has been your favorite match or moment so far in your career at the WWE?

TO: My favorite match would probably have been my first SummerSlam, which was last year. Darren and I competed against Kofi and R-Truth for the WWE Tag Team Title for that year's SummerSlam. My second favorite moment was this year. I have been with the company for four years. This time was the first time that I actually competed on the card in the Andre the Giant Memorial Battle Royale at WrestleMania 30. There were so many legends in town. It was hosted by arguably by one of the biggest Superstars, if not the biggest Superstar in WWE history in Hulk Hogan. It was definitely a highlight in my career so far.